Biorevitalisation with Skin Boosters is an increasingly popular procedure that generates fast, noticable improvements in the condition of the skin. Skin boosters, often termed 'injectable moisturisers', have a lightweight, gel-like consistency that spreads once injected into the face, neck, hands and chest.
Due to their ingredient profile and strong anti-ageing potential, they're able to revive parched, aged skin and transform it into healthy, youthful skin by replenishing it with a high concentration of hyaluronic acid.
Both men and women who are concerned with mild to more significant signs of of ageing are treatment candidates. Even younger individuals can benefit, as Skin Boosters for bio-revitalisation can help delay the first signs of ageing and keep the skin healthy, hydrated and dewy.
Skin Boosters are typically performed on the face, neck and chest. They're a good alternative to Mesotherapy treatments for those who desire more of a 'moisture injection'.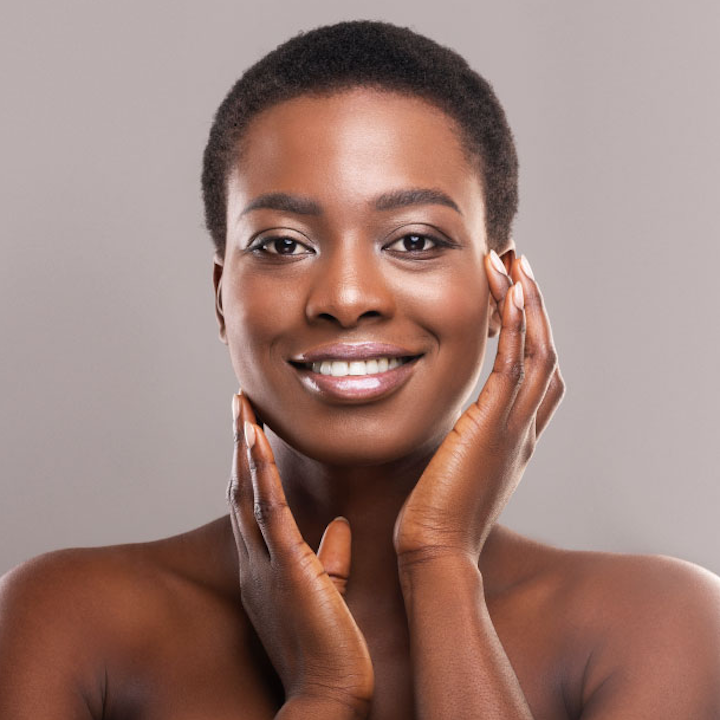 'Skin booster' is an umbrella term that's used to describe injections of non-crosslinked hyaluronic acid, sometimes accompanied with other skin hydrating ingredients. Some of the most effective Skin Boosters we use include Profhilo, as well as PDRN-based injectables (salmon DNA) and sodium hyaluronate (a form of non-crosslinked hyaluronic acid), which is the key ingredient in our Baby Skin treatment.
It's a minimally-invasive treatment, with minimal risks and little downtime. A single treatment consists of multiple injections into the skin's superficial layer in a point-by-point fashion; a course of treatment may consist of up to six separate sessions, spaced around two weeks apart.
Skin boosters are particularly effective above the lip (vertical lines) and around the eyes (crows' feet). By improving the firmness and natural elasticity of the tissues, they can reduce skin folds and revitalise sun damaged skin without weighing down the tissues.
The number of treatments required depends on the specific nutritional demands of the skin, the extent of the problem to be treated and the type of Skin Booster selected for treatment.
All Skin Boosters contain a high amount of non-crosslinked hyaluronic acid, a compound that is produced by our skin naturally and that can hold several times its own weight in water. When deposited just beneath the surface of the skin, it improves its hydration, reduces wrinkles, increases moisture retention, reduces dryness and promotes skin elasticity without altering facial contours in the same manner as crosslinked hyaluronic acid dermal fillers can. In this manner, Skin Boosters are ideal for any person who wants to improve their skin's general appearance and eliminate skin imperfections in a very natural way.
Skin Boosters with PDRN also enrich the skin with nutrients that heal damaged tissues, and protect the skin against UV damage and ageing.
Many include one or more stabilised ingredients that encourage longer-lasting results. Some the compounds found in Skin Boosters can also improve skin volume, making it look younger and more attractive. This effect is one of the best ways to counter age-related decline in the production of collagen.
Skin Boosters are suitable for those with cosmetic skin problems such as:
Fine lines
Pigmentation and age spots
Sun damage
Dryness and scaling
Thin skin and crepey texture
On the day of your procedure, we will first make sure your skin is free of any build-up, products and/or cosmetics
A special numbing cream is then applied to the treatment sites
A Skin Booster with highly concentrated, non-crosslinked hyaluronic acid (alongside any other needed ingredients) will be administered into the skin using a 'point-by-point' injection technique
The product is administered evenly throughout the affected skin areas to ensure consistent delivery
A cold compress is applied to the treated parts in order to to soothe the skin, and minimise redness and swelling
You may resume normal activities immediately after the session is complete
Skin Boosters work best when administered in a series of up to six sessions spaced 2 weeks apart or performed once monthly. Minor swelling and redness may persist for up to 72 hours. Thereafter, immediate benefits can be seen, with further improvements visible several days post-treatment.
Results continue to improve further with additional sessions. After a course of treatment, results typically last from 4 to 6 months depending on your overall skin quality and lifestyle. You may need additional sessions once or twice a year to maintain results.
Book A Consultation
OPENING HOURS
Monday - Friday: 10am-8pm
Saturday: 10am-3pm
CONTACT INFO
T: +44 (0)203 322 5958
E: info@bea-skin.com
UK CLINIC
98 Crawford Street,
Marylebone, London
W1H 2HL
INTERNATIONAL LOCATIONS
Grote Market 32,
9210 Beveren-Waas,
Antwerp, Belgium
Abuja, Nigeria