MEDICAL AESTHETICS PRICE LIST
To view prices for the full range of treatments on offer at b.e.a Skin Clinic, please download our latest price list below.
Bringing together a diverse range of skills and treatments in order to provide cutting edge procedures and treatments for all skin conditions, b.e.a Skin Clinic's medical aesthetics price list details our full range of options available for those looking to improve their skin, hair and body. With ongoing training and some of the most innovative and exciting new treatments available, we are committed to ensuring that your chosen course of treatment is suitable for your individual needs. From your initial consultation, b.e.a Skin Clinic's trained practitioners will guide you every step of the way.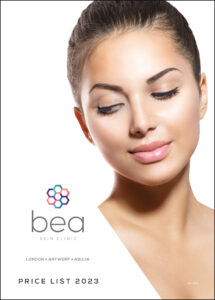 Book A Consultation
OPENING HOURS
Monday - Friday: 10am-8pm
Saturday: 10am-5pm
CONTACT INFO
T: +44 (0)203 322 5958
E: info@bea-skin.com
UK CLINIC
98 Crawford Street,
Marylebone, London
W1H 2HL
INTERNATIONAL LOCATIONS
Pikes Hotel, Ibiza
Grote Market 32,
9210 Beveren-Waas,
Antwerp, Belgium
Abuja, Nigeria